About Us
South African High Commission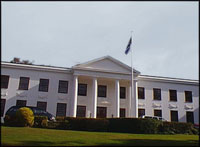 In addition to serving as South Africa's resident diplomatic mission to Australia, the High Commission is also accredited on a non-resident basis to Nauru, Papua New Guinea and Solomon Islands.
The High Commission's main role is to promote and facilitate government to government relations with accredited countries, to promote trade and investment relations and to provide consular assistance to South Africans visiting or living in Australia, and the Pacific region.
Our home page has been established to extend the provision of consular, general and trade services and information to Australia, New Zealand and other countries in the Pacific Region.
The home page is organised in a manner that will allow visitors initial access to a range of web sites and search engines, providing Internet links dealing with all aspects of South African culture, economy, government, media, tourism, and society.
The High Commission trusts that visitors will find this virtual gateway to South Africa to be a fast, friendly, easy to use and useful source of information.
Further useful links: